Honda Brakes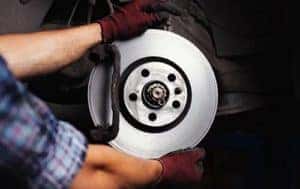 Brake Squeal and Wear Indicators
All four brakes have audible brake wear indicators. When the brake pads need replacing, you will hear a distinctive metallic "screeching" sound when you apply the brakes. If you do not have the brake pads replaced, they will begin screeching all the time.
Your brakes may sometimes squeal or squeak when you apply them lightly. Do not confuse this with the brake wear indicators. They make a very audible "screeching."
Low Brake fluid
If your brake fluid is low, it may be leaking or your brakes could be worn.
Honda Genuine Brake Pads
Stopping is the ultimate commitment.
It stands to reason that Honda Genuine Brake Rotors function best with Honda Genuine Brake Pads. Particularly since Honda brake pads are extensively tested on Honda vehicles in the most intense braking situations and extreme environments. Made from a balance of hard and soft materials, Honda Brake Pads can effectively help prevent premature disc wear and minimize noise.
Precisely engineered and manufactured with state-of-the-art materials for superior performance, proper wear and long life.
Specially designed to dampen noise and reduce vibration.
Includes high-insulating shims and specially formulated grease.
Honda Genuine Brake Rotors
Shaped to the exacting standards of Honda.
Brake rotors are vital to dissipating the heat that comes from the pads every time you brake. Honda Genuine Brake Rotors are built to take that heat time and again for lasting performance and reliability. They're made with the optimum mix of materials and compounds to safely withstand long periods of wear and to help prevent overheating and warping.